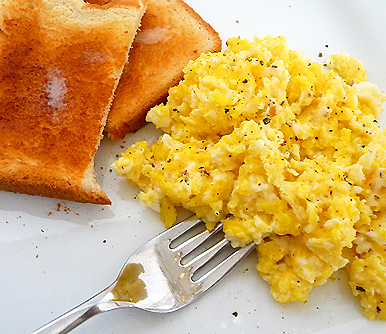 Yes, I love Adobo seasoning as you can see. I use it for seasoning my meats, seafood and yes I also use it to season my scrambled eggs.
My 10 yr old niece spent the weekend with me and the loving and thoughtful girl she is, she offered to make us breakfast. She pulled out the pan, grabs the eggs, oil, eggs scrambler, salt and pepper. She looked soo cute that I took a picture of her while she cooked. For a 10 year old she did a great job. Her cousin, my son, is an extremely picky eater yet he managed to eat some of it but not all. The next morning he asked me if I could make him the same breakfast but my way. So I did. My niece said she didn't want any so she just sat and watched her cousin eat. Not realizing I was looking, she asked her cousin if she could taste it. He gave her some of his food so she could taste it. She then proceeded to say, "This taste really good. My mom doesn't make it like this. Do you think she can make me some?". And yes I did make it for her.
So if you like scrambled eggs like my family does, try using Adobo instead of salt and pepper. What I do is I turn on my flame to medium heat, spray my pan with Pam (butter flavor), crack my eggs in the pan, sprinkle Adobo to my taste and then I scramble the eggs. I continue to scramble my eggs until cooked. Once cooked, serve on a plate with toasted bread. It's as easy as that. One, two, three and you're done. Try it and see for yourself. Hope you like it. Enjoy!
From my Kitchen to Yours